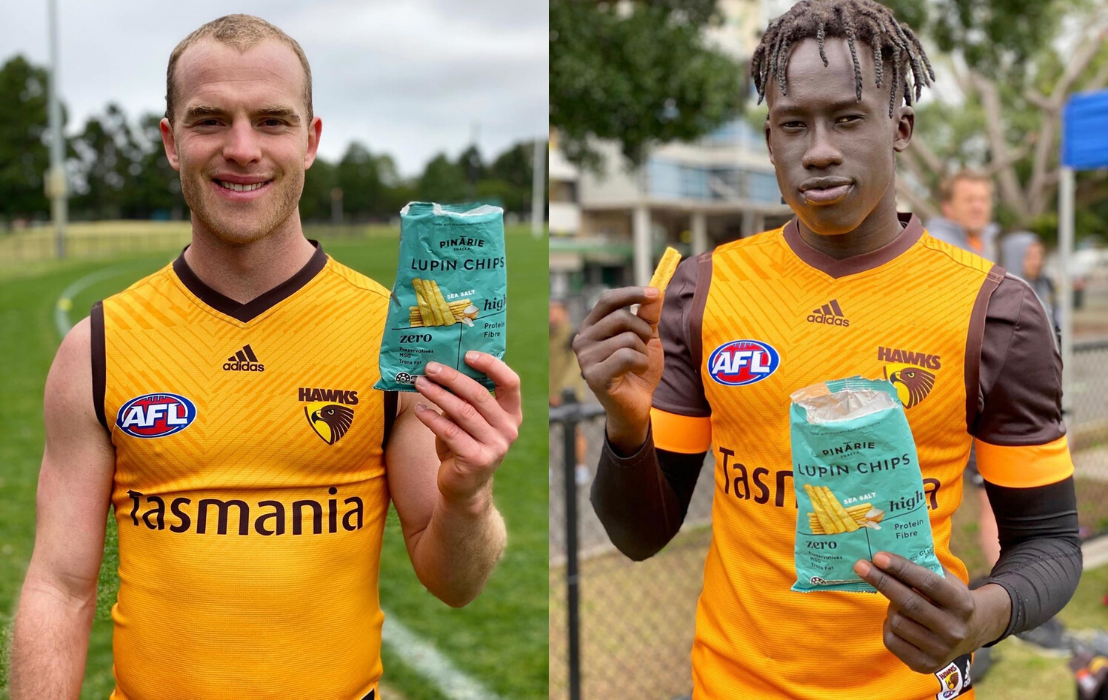 July 21, 2020
Hawks muscle up with Pinarie Snacks partnership
We are delighted to announce Hawthorn Football Club is muscling up for the 2020 season in a new partnership with Pinarie Snacks.
Pinarie Snacks are a new generation of high-protein, high-fibre, gluten-free snacks, made with Australian Sweet Lupins, a unique super-food. Pinarie Snacks are powered by Australian Sweet Lupins, the greatest non-gmo plant seed combination of protein and fibre of all legumes.
Hawthorn's Physical Performance Manager, Luke Boyd, highlighted the high quality snack option Pinarie Snacks Lupin Chips offer in an elite training environment.
"Pinarie Snacks – Lupin chips are a great tasting and high nutritional quality snack for, pre and post workouts or as a healthy everyday snack", said Boyd.
Want to win a box of Lupin chips PLUS a signed Hawthorn guernsey? Enter our Instagram competition here!
Hawthorn CEO Justin Reeves said the club is thrilled to welcome Pinarie Snacks to the Hawthorn family.
"The partnership between Hawthorn and Pinarie Snacks is one based on aligned values. Pinarie Snacks is dedicated to innovation and we are proud to partner with a brand with such energy and passion for healthy living," said Reeves.
"We look forward to working closely with Pinarie Snacks through this new partnership."
Pinarie Snacks co-founder Daniel Marshall emphasised Pinarie Snacks' commitment to innovation.
"It takes positive thoughts and positive actions to have the courage to dare to be different and create something new, be it on the football field, in business or everyday life," said Marshall.
Pinarie Snacks products are available at leading independent retailers.